:thanks: @

bubbles8

for reposting my MV ka, 
@ Dearest 

Zoe

, high 5, the baby got Na's eye , thank you i just got an idea for my next coming Mv from your posting na ka, hopefully i will not change from here to there... like everytime when i made any MVs lol
Guy that ladies want to kiss the most: No.1
Guy who stays in the first rank for this title can't be no one besides this hottest actor Nadech Kugimiya who is very famous because of all his lakorns and also his appearance that is very handsome till we cannot find any bad spot. Furthermore, he has very good personality since he always treat his FCs nicely like his own family. More importantly, he also has Yaya Urassaya as a Jin couple for many years which make them become famous unstoppable. We can say that all his activities can become valuable news; and we can see his face everywhere. So it's strange that ladies in all ages really want to kiss this guy the most. But they must ask Yaya first if she allows others women kiss her guy or not because there are 342 women from 1800 respondents have voted for Nadech to become the guy that ladies want to kiss the most in year 2015
Woman that guys want to kiss the most: No.2
2nd rank is Yaya Urassaya
Hmmmmm... The popularity of this girl is not worse than her partner, because among 2332 male respondents in all ages, there are 286 guys voted for her, which makes her stays in the 2nd rank of Woman that guys want to kiss the most in year 2015 while her score is quite high and far away from other nominated actresses. For the reason of her success, we don't need to explain too much, because for those who used to watch her lakorns or follow her in her IG, they would know how cute this girl is. Besides having beautiful appearance, her characteristic is also lovely. Although she got teased by her seniors and her friends so many times, we never saw this girl feel angry, but she turned to release her feeling in a very natural way, cute, hittable, and teasable. If so, those guys who don't love this girl would be crazy guys, because even lady staff from TOP TEN THAILAND also fall in love with this girl. ....
And of course, woman that the most wanted kissable guy want to kiss is in the below pic , you're always his No.1, Ya ka lol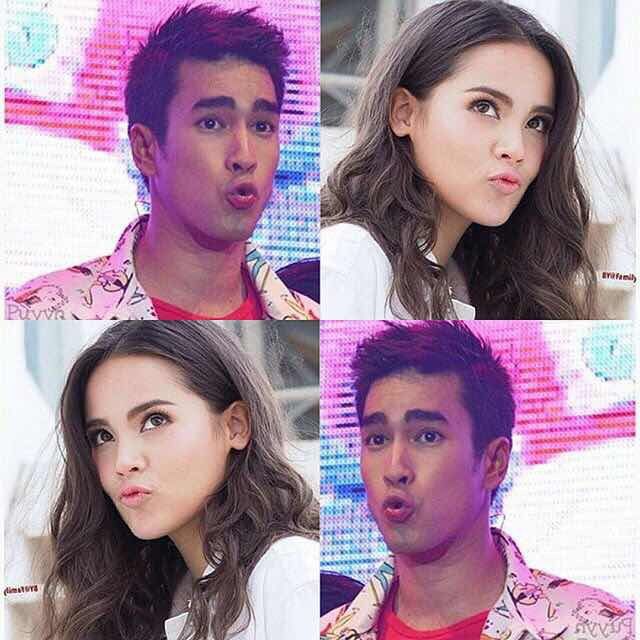 Translated by Ig @ 

 
ka.ta_love_ny
Cr. leeya_ifnt, to the owners, nuchar_3321