I'm so late watching this drama, but I must show my appreciation for this lakorn. First off, I love romantic dramas, ones that leave you with a sense of satisfaction after watching it and this lakorn definitely did that for me.
I know that some might think this drama to be too slow in pace, but overall I was not disappointed and felt a lot happened with the development of the characters love for one another in each episode. The reason why I was drawn to this lakorn was b/c of the storyline, but I was surprised with how much I have come to love Ruj and Araya as characters and have now developed a fandom for them.
I love Andrew's portrayal and interpretation of his character Ruj. I have never seen Andrew play such a stiff character (in movement, mannerism, and expression), but his portrayal of Ruj was just perfect to me b/c Andrew was also able to show Ruj's gentleness through the stiff and at times, cold exterior.
Some viewers might see Ruj as dull, but to me, that is what I enjoyed seeing most and find so special about this character. I find Ruj to be a different kind of pra ek. He is a man with an introvert personality that talks little, smiles little, means what he says, stern, but yet at the same time is very gentle and warm. That's probably why I squealed so much at some of those scenes when he accidentally showed her his warmth or the times when he intentionally made efforts to show her he cared b/c these gestures of skinship and softness were coming from such a reserved man. I guess that is why Araya had such a hard time adjusting herself to him and found it difficult to act around him b/c he was so cold at first, but yet she would see glimpses of his true nature. I love what Charlie's mom said to Noona, "that all it took was a glimpse of kindness from him and all the mean things that he'd done to her disappeared", and with that love was able to develop.
And how could Araya not love him? After all, Ruj is not innately mean, he has his reasons. He's an intellect and he believes what his eyes see and he saw his step mother with another man alone secretly in the garden and then, when he returned home, the Rujiroj family jewels were gone....reasons for any person to to assume the worse of another person.
But I loved it that although he hated the mom, when he began to see Araya's goodness, I loved it that he made efforts to put his hate for the mother aside and begin to accept the daughter. Yes, there were times when he was frustrated by the surge of emotions that were foreign to him....his growing possessiveness of her....and at times he confused these emotions with his hatred for the mom.....and it scared him b/c his head was telling him one thing, while his heart told him another.
Also, other reasons I love this pra ek, in the beginning he is resentful of Araya and was mean to her, but it was only through his mean words. He never plotted anything bad against her for revenge or ever wanted to physically hurt her. On the contrary, he didn't mind providing for her (it's his caring nature). I loved that scene when he had guests over and he asked Suk to go get her to join them for lunch b/c even though he didn't like her, he still considered her a part of his household. Then when Sowarot said those suggestive things about Araya being inappropriately too close to Charlie, I liked it how he shut her up by simply saying that "they're just childhood friends, I too played with Charlie's sister Noona". I definitely loved it that he was smart to sense that Sowwarot was two timing him. And then when Sowarot was there at his house for too long and started irritaing him, I loved it that he was so direct as to say, "Aren't you seeing Pakinai?" Haha!!! I love me a smart and direct pra ek.
I love love love how his jealously is portrayed in this lakorn. It wasn't over the top. He never went out of his way to show off to Charlie or Pakanai by putting his arms around her in front of them, which we often see in other lakorns as a way for the pra ek to stake ownership. Ruj's jealousy was of a silent nature. He may have seemed calm on the outside, but his love and need for Araya really shook him to his core.
But yes, if you're reading this thread and are debating whether or not to give this drama a try, I do highly recommend it. It's not for everybody, but if you love romantic lakorns where all the action is in the dialogue and how the innocence of a couple's attraction turns into deep love, then you' ll enjoy this lakorn. All of the excitement is in what they felt for one another, but were not yet ready to admit. Plus, you won't be disappointed in Andrew's acting. As for Mint....yes, she needed help here and there, but it's forgivable with her being a newbie. I do see potential for growth for her as an actress. Plus, she really is so adorable as Araya
Aweeeee, I talk too much, but I only talk a lot about what I love and I do love
Kehad See Daeng
. It's a wonderful little love story.
P.S. This version definitely is better than the older version for me. I remember watching Sam's version, but don't remember falling in love with Ruj the same way as Andrew portrayed and interpreted this character.
One of my most favorite photos of them together.
I love how happy Mint looks to be sitting next to Andrew.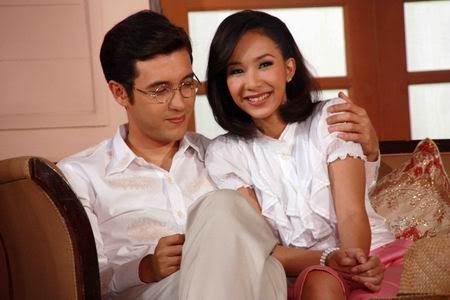 credit: PauJingJong