Is your "nom" Fai-approved?
Title:
Jao Hua Jai
Starring: Yaya & Nadech
Author: JJINXX
Genre: Romance, Drama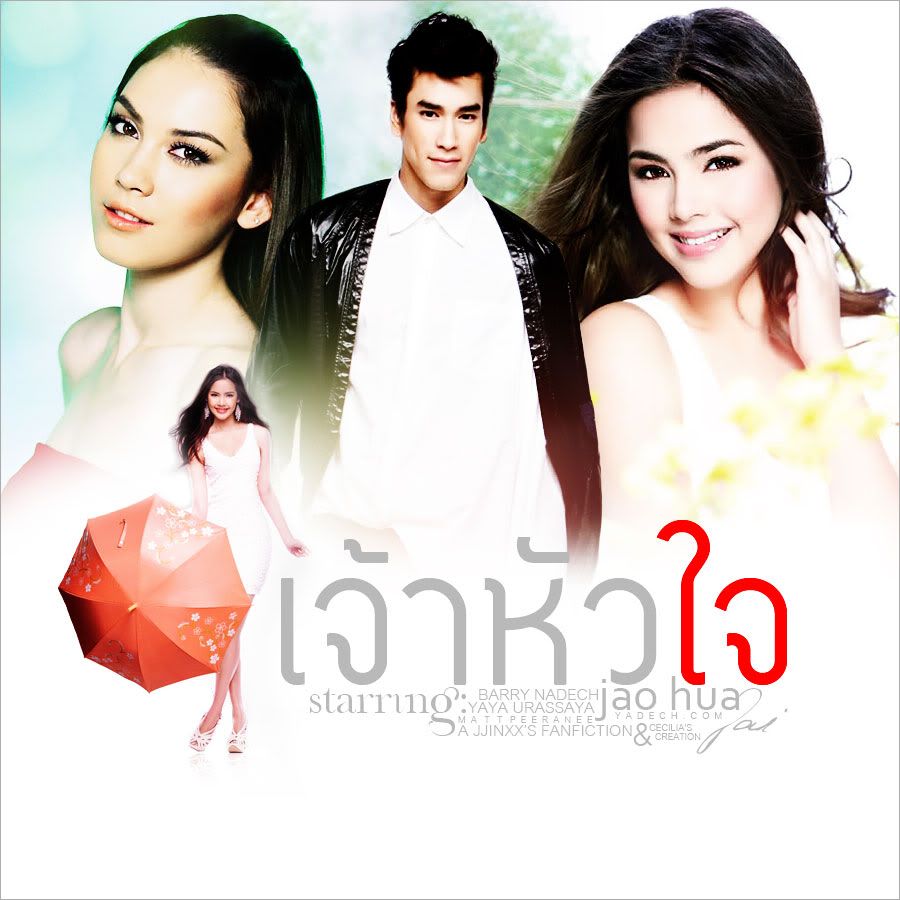 Theme Songs:
"Too Much So Much Very Much" by Bird Thongchai Listen:
Listen
"Smile" by Uncle Kracker
Listen
View JHJ Cast Photobook
Channel X. 00/00
Tonight's news features a couple that the media are keeping a tight eye on. This couple has not only acted together before but have been known to be friends. Although rumors have flashed on frontpage news questioning their relationship, this couple has been able to maintain their honorable statuses, along with keeping an open friendship and professionalism. We will keep watch to see what these two stars, who have quickly become a kookwan for a vast population of Thai lakorn viewers, will bring us in the future. Currently, the two are working on a project along a popular storyline that has been this year's highly anticipated lakorn with one of the best directors. The lakorn is titled 'Jao Hua Jai'. Stay tuned for teasers coming up ahead! We guarantee that these two stars will keep you glued to the screen!
Yaya Urassaya
, the beloved sweetheart of Thailand's entertainment industry. She has worked her way up to become one of the highest achieved actresses. Many lakorn projects are lining up to be accepted by her as being their nang'ek. Although reporters try to create dramatic rumors about her, she is able to ward off the rumors...and besides, she's much too busy for a love life.
Nadech Barry
, the mixed-race hottie who has made a big hit in Thai acting and has been on the rise ever since his first lakorn. He has won the hearts of countless female fans of all ages with his dimpled smile. This talented pra'ek has been prime target for many spotlights, from modeling to lead roles, and of course, scandalous news. However, he has strong defenses and has not yielded to any rumors...yet.
:fanfic:
Author's note-------------
Hi everyone!!! Whew, I'm feeling quite anxious. I hope you all will enjoy this little fanfic. Yadech has thoroughly defeated my heart, I adore this couple to death! So on the spur of the moment (Yadech just gives me so much inspiration) I decided to start this fic. As you can see, Yadech will be playing actor and actress, therefore I didn't put in their last names because I felt that was breaching on real/personal life--that made me nervous, I don't know why lol One reason is because I'm not familiar with Thai media so I don't want to try to use too much of the variety shows and news that are real, because it'll be easy to see mistakes. Notice, I didn't even use Ch.3 :sweat: The goal is this is purely fictional, even though I will mention Duangjai Akkanee
I love the Thai language, though I can't speak it, so excuse me if I try to use it in the story and it doesn't make sense. :sweat: Although I know I might embarrass myself by using the language incorrectly, I shall only use small phrases and include things like "ka" and "krup" to add to the characters' atmosphere. Feel free to correct me if I make a mistake. This is probably silly but I want the title to mean "Lord of the Heart" so I hope that I have it right (I should make sure even before I post this but oh well haha...)
Oh, minor characters that I have decided on:
Mark Prin
Mint Chalida
There will be more but I have yet to decide how big of a role they will be. Thanks!
:heart:
jjinxx
* THANKS TO
KUTEFIRSTLOVE
AND
MAINHIATHAO
FOR THE POSTERS!