Lie Marriage Turn to Real
[ Episode 1 ]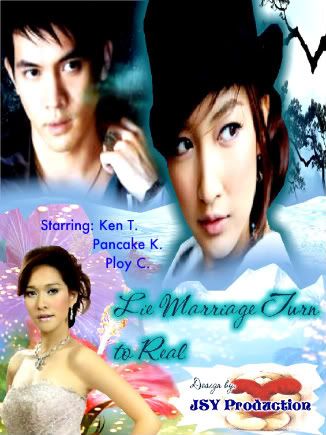 Starring:
Ken T., Pancake K., Ploy C., Peak P.

> Ken as Piwat [Wat]
> Pancake as Lin
> Ploy as Alinee [Nee]
> Peak as Kim
By:
JSY Production


Episode 1

" Mom, um, Piwat slept with me, mom you got to help me, okay.", a lady said to Piwat mom and then Piwat mom tell that lady, " If, my son really slept with you, then let me go ask him and if you want money I can give it to you later, okay.", then the lady answer back, " Okay.', the lady said it in a sad face. Then Piwat mom came out from the store and she call Piwat, while she's in the car. " Wat [ Piwat nickname ], a lady name Kwan said she have you slept with her last night?", Wat mom ask him on the phone. " Mom, another lady come and lie to you again, huh.", Wat said to his mom, " Yes, but is that true, that you slept with her, though." Wat mom ask him, " No, mom yesterday and the other yesterday, I slept at home and not even go anywhere, so just come home and don't care about those stupid problems, okay mom, I got to go, bye love you.", Wat tell his mom. " Wat, Wat,…okay bye.", Wat mom said. Then she went back home.
" Kim, you ask me to go be with your brother at the company, then you will tell the news reporter to come take are pictures, are you stupid!", Lin said to Kim. Kim is Wat sister, and is the only sister. " Yes!, you go be with my brother and I'll take you two pictures and you will have news with my brother, Wat, then you two will marry , then there will be non other girls come and interrupt him anymore, please do this for me, please, please, please.", Kim said to Lin. " Okay, but just for once, okay?", Lin said to Kim, "Okay.", Kim answer back. [ Lin think back and she feel like she's harming her life, but she tell herself that there will be no marriage at all.]
The nest day Lin dress up in a very sexy, pretty, and beautiful way to Wat company. " I want to talk to Wat, and I'm his girlfriend.", Lin said to the secretary, " So what's your name?", the secretary ask back, " My name is Lin Sukapat, and I really need to talk to him, because it's an emergency.", Lin said. ' Boss Piwat, a lady name Lin Sukapat, she said that she's your girlfriend and she have an emergency talk to you.", the secretary tell Wat on the phone. " Let her in." Wat said. " Please go in.", the secretary said.
" Hello Wat!, don't you miss me?", Lin went straight to Wat. Wat turn around and saw Lin and he like her. " Who are you and what is your emergency talk, huh, and you need to hurry up and tell me.", Wat said. " Well, um, I like you a lot, that I can't go marry my mom [ Lin paused for a second because she don't know what to say ]…um, oh yeah, her cousin sister son, because of you, I like you so much that I am so desperate about you that I can't go marry him.", Lin said [ Lin was pretending, and look confused about herself ] . " Well, then I can't help you because I'm not even your boyfriend?", Wat said to Lin.
" Okay then, so are you going to be my boyfriend?", Lin said [ in a happy face ] , " Well, for that you need to marry me, so you could be free, okay, so do you agree?", Wat said to Lin [ when Wat said to Lin he was happy, but Lin was confused because she is just lying and he is willing to marry her and she don't even like him], " Um….[ Lin paused because she was texting to Kim and Kim tell her to say yes ] I agree , yes!!!" Lin said in a exciting voice, but for real she was sad because she have to do some thing that she really make a mistake in her life.
They went outside together and news reporter take their pictures and Wat was shocked.
" So are you two going out?", reporters ask, " Yes, we are." Wat said and Lin was looking at him in a confused way and she just stared at him. " So Lin are you two really dating?", one of the reporter ask Lin, " Um, yes, we are dating and it was about,[ Lin was looking at Wat, then Wat do his finger, 3] um, 3 years.", Lin tell the reporter, and Wat was shock that she said 3 years, and Wat was just expecting 3 months.
- to be continue and please let me know if i make a mistake, or is it good..