I know I have a pretty bad wrap sheet with finishing fanfics, but this is one where I've kind of had the story in mind for awhile and finally wanted to just put it together. i'll try to do 2 chapters a week. In addition to this one I think I will be pulling Love Replica's out of incomplete and attempt to finish it. This one originally was only going to be Yadech & Bargie, but then I fell in love with Mai Warit & Prim Prima from Poo Dee E-Sarn lol so I had to add them! Any feedback will be much appreciated and hope anyone who read enjoys. Right now I only have character summary and prologue, but I'll try to get chapter 1 & 2 up before the day is over.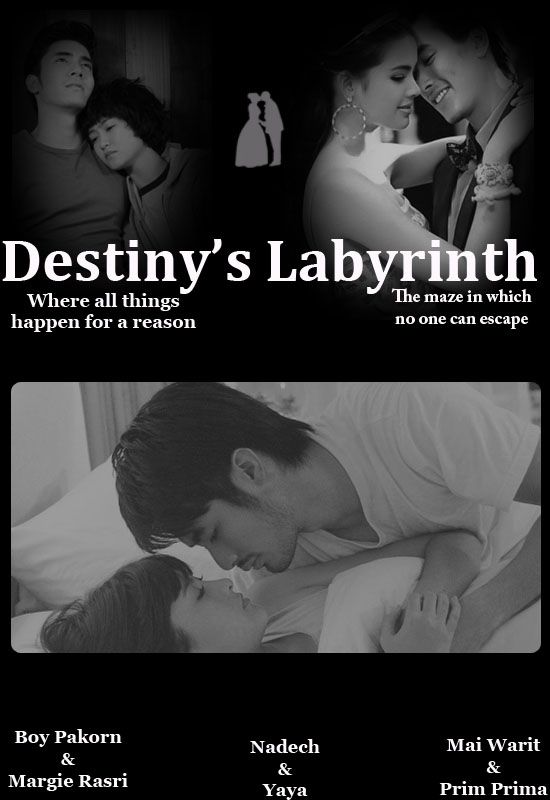 ​
 ​
 ​
 ​
Barry Nadech as Foon Din Noparat (Age 24) – Foon Din or Foon is the black sheep of
his family. He is the youngest child and the most despised by his parents.
Shortly after his birth his family lost everything and it gained him the label
of the family's curse. Neglected by his parents Foon often felt lonely and
fought to gain everything he had. He becomes a successful businessman, but even
with his success his mother and father still refuse to see the good in him.
With his brothers' support Foon built himself up from the dust in which he was
named after to one of the country's biggest business mogul. While Foon had to
fight for every penny he has he meets a woman who was born into riches. She was
the bratty daughter of his newest business partner Dao Den. Foon initially
despises everything that she is and sets out to correct her despicable spoiled
nature. However, instead of changing her, she changes him. Foon learns to view
the world in a different way shortly after meeting Dao Den. Maybe he wasn't the
worthless person his parents always made him feel he was?​

 ​
Yaya Urassaya as Dao Den Sakunhong (Age 21)– Dao Den literally was the
name given to her by her parents to mean the brightest star. Growing up people
around her reinforced that she was perfect and deserved nothing but the best.
Often Dao overlooked people and noticed no one if it got in the way of what she
wanted. By chance she meets her father's new business partner and despises him
for his rudeness towards her. No one has ever refused to bow down to her needs
except Foon Din. Dao tries to win him over and show him no one can escape her charm,
but in the midst of her immature games she comes to learn more about Foon Din.
The things she learns about this man changes her perception on the world
forever. Dao finds herself falling in love with a man who hates her, will she
change his opinion of her?​

 ​
Boy Pakorn as Jakapat Noparat (Age 32)– Jakapat is the oldest of the Noparat
family and his father's favorite son. Jakapat follows in his father's footstep
and becomes a police officer. He is the more carefree and lively of his
siblings. One day Jakapat is given orders to escort the princess of a small
country named Vieng Saeng Phet. Jakapat feels annoyed by this order because he
feels is just being an overqualified babysitter. He is delighted when the
mission is cancelled. His temporarily relief is lifted when he is assigned a
more important task and that is to find the princess. While on his mission he
meets a young woman he quickly becomes infatuated with, but will his heart
survive when he finds out she is the princess he is looking for and even worst
she is engaged to marry a prince of the neighboring country?​

 ​
Margie Rasri as Jao Ying Phetroong Akaratdecha (Age 25) – Jao Ying Phetroong the
youngest child of the Akaratdecha dynasty. Phetroong is set to marry the prince
of a neighboring country as a diplomatic peace treaty, but Phetroong grew up
listening to fairytales of true love from her nanny. Her desire is to marry not
for political reasons, but for love. She runs away from her kingdom, and on her
journey she meets Jakapat a police officer who was assigned to find her.
Initially she twists his paths so he can't figure out her identity, but as time
passes by she finds herself falling deeply in love with him. Phetroong is
willing to give up everything to be with the person she love, but his pride
refuses to let her fall from the skies to his lowly ground. Will Phetroong be
fated to marry a man she doesn't love because of the pride held by the man she
loves?​

 ​
Mai Warit as Grianggrai Noparat (Age 29) – Grianggrai is the middle child of the
Noparat family and his parents pride and joy. He is the chief district officer of
Thapranomphrai and takes his job very seriously. Grianggrai is serious, sharp,
and precise. When there is word of a very dangerous crime lord slowly taking
over the province Grianggrai attempts to banish all these dark powers. While in
the middle of his duties he meets a young girl who quickly draws his attention.
Grianggrai believes she is involved in all these dark deeds, and he keeps a
close eye on her. When a mistake leads her in the middle of a bad situation
Grianggrai saves her from the terrible fate of jail. Grianggrai tries to change
this young girls bad habits by employing her to repay his debt. However he
finds that she is more than what he sees and everything he knows about her is
false. As he slowly changes his opinion of her she overturns his opinion.
Feeling despair and losing hope of his inability to change he decides to let
her go, but will his heart be able to tolerate his decision?​

 ​
Prim Prima as Royrao Pitaksompong (Age 19) – Royrao is the name given to
her by her mother, and meaning deep crack mark. She was believed to be the
worst thing that ever happened to her mother. When she finally escapes home she
escapes with a dark secret. A secret that is too painful to bear. She wanders
off into the Thapranomphrai district and finds herself in deep trouble, the
same type of trouble she escaped. Luckily she is saved by Grianggrai who forces
her to repay his debt by working for him. Royrao falls deeply in love with this
man who rescued her from the depths of darkness, but her secret is too dark and
she is afraid once he finds out that he will never see her the same again.
Before Grianggrai can unlock the secrets to her dark past Royrao decides to disappear,
but not without consequences. ​