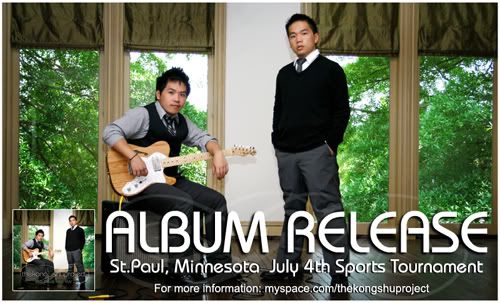 Hello everyone,
We hope your summer is going well so far. We would like to let you all know that we will be releasing our 2nd Album titled
"Mus Dawb, Mus Huv"
in
St. Paul, Minnesota
on
July 4th, 2009
during the Annual
Minnesota Sports Tournament
. Be sure to drop by our
booth***
to purchase a copy of the debut album.
We look forward to seeing you all there. Have a safe and great summer!
***Our booth will be the same as last year, across from the middle entrance (between the pool and tennis courts)
***Be sure to check out our myspace on ways to win free prizes and giveaways.
***The Kong & Shu Project is an acoustic duo from North Carolina.
For more information, please visit:
www.myspace.com/thekongshuproject
Thank you,

- THE KONG & SHU PROJECT