Just finished a couple of his older lakorns, and it's what got me so addicted to this actor...I'm sure everyone has seen Sawan Bieng...Both titles are how it's spelled on Youtube
Ruk Ter Took Wan aka Snaeh Oun Krobkrea
Ken is great in this series, and he portrays such a perfect man...even for lakorns...Don't get me wrong, there are romantic complications cuz of third parties, and misunderstandings, but most of the time, the scenes between Aom and Ken are very cute...He's a really sweet and caring thou brohe...There's a lot of love between the two characters in this lakorn...They have the most honest and open relationship that any couple I've ever seen in a lakorn, well, except
when Ken keeps his deteriorating health condition from Aom because he wants to take care of her because of her blindness...and when Aom stays away from Ken just so he can get the treatment he needs...that's the saddest thing about this lakorn, they both sacrifice things for each other...It's how Ken does so much to help Aom accomplish her dreams, and risks his own life just to help her, and she doesn't even know it til the very end...
He's not mean to her, or abusive in any way, he's really sweet and grows to love her more than life itself...and there are scenes when he looks at her, or talks to her, that makes me blush and gives me butterflies...He's just that good of an actor.
Sao Rong Nirund Dom aka Snaeh Nirund
This is an older Aom and Ken series...and it is sad...but it has a beautiful ending to it...Just bring the tissues. Aom's character is feisty than most female leads...a woman that is confident that her man loves her, that believes in him, in spite of the psycho girl that wants her man...This is a great romance lakorn too.
I mean, I bawled my eyes out towards the end...they finally are together, but Aom has the brain tumor...then Ken gets shot and falls off the cliff...They end up in the same hospital, in the bed right next to each other, but Aom doesn't see him...Then at the very end, they go to die on that island...I was in shock, I knew Aom was dying, because she went to see Ken at the hospital instead of going to America for her surgery...But I didn't know Ken was gonna die too, I mean, he was hurt and all, but I had no idea...So I cried even harder when he died...But in spite of that, it was a beautiful ending, because they got to die together, in each other's arms, at the place where they had great memories.
Rak Nee Hua Jai Rao Jong aka Snaeh smoss an pee doung jet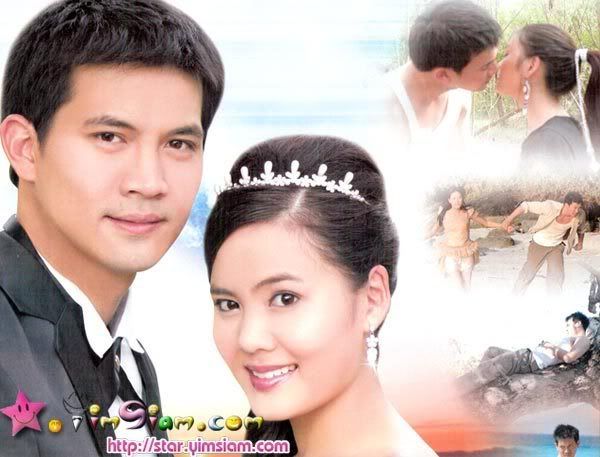 This has got to be the funniest lakorn I've ever seen in my entire life...Because it's funnier for the first half of the lakorn, and that's more than most comedy lakorns...I laughed so much, and so hard over the Ken and Janie scenes at the beginning. And it's cute to watch them slowly fall in love with each other...through the craziness that they go through together.
The only thing I don't like about it is how Ken decides to marry his ex only to get close to her dad to find out who killed his dad...and Janie choosing to marry the creep that almost raped her...
But I'd still pay good money for this lakorn...the funny scenes alone are priceless...and the first lakorn I've seen with so much lip action.