After both of Tangmp Pattarathida and Tono Phakin broke up for a while. Both of them was kept focus on their movement.
Later on 29th August that is birthday of Tono. Tangmo don't forgot to post picture on her instagram that is @Melony_forfan
for wishing her ex-boyfriend. She post 8 videos for missing a past with her mind, and sorry her ex-boyfriend.   
Cr. Thairath
http://www.thairath.co.th/content/521724
This week of last year, I remember that is happy moment. I secretly practice to play music (I never did it before 5555),
and practice saying Northeast language, and practice shooting clip video. A friend in church help me to do it for present to Tono in birthday.
When Tono invite to go province for shooting lakorn. I will secretly take a ukulele, and hide it under a chair. When No go out to shoot lakorn.
I will practice to play it. 5555 That so funny, but I'm so excited and happy very much. I need to be his birthday quickly. I need to know how is he ??
when he saw this, but I'm so painful in this year.I nee to do anything for his happiness, but I can't, because I'm not his happiness anymore.
I miss him so much. I really miss him  
https://instagram.com/p/6-LFCHGyCx/
https://instagram.com/p/6-LWqWmyDb/
https://instagram.com/p/6-LvkXmyEU/
https://instagram.com/p/6-L5e7myE5/
https://instagram.com/p/6-MZ2UmyF-/
That so long to not see your happy smiling like this. It don't has Armour, wall, and you looks joyfully. You can sit down without worry like this.
This not evil which not be headdress that you're strong. In your leader and strong, sometimes I can touch your sensitive and weakness.
I always see a cry-baby boy, but that person gone at now.  
https://instagram.com/p/6-Tiy2GyH0/
I'm sorry about everything that make you leave, and be reason for everything that make you sad. I'm so sorry you, your family,
and your every beloved fan. I don't be honest for you, and selfish. I'm so sorry that let you take all bash, even I should get all bash.
Thank you or your gentle that protect me till last minutes. Now, everyone will know why P' No pretend like be cruel. Actually, he is not be like that.
About my mistake, if I will try to switch it with your mistake. I will do anything wrong like you. I will take it till you will be fine, and that sadness over.
I will wait in same place in god way till I will sure that you don't come back anymore.
https://instagram.com/p/6-Vc-omyMK/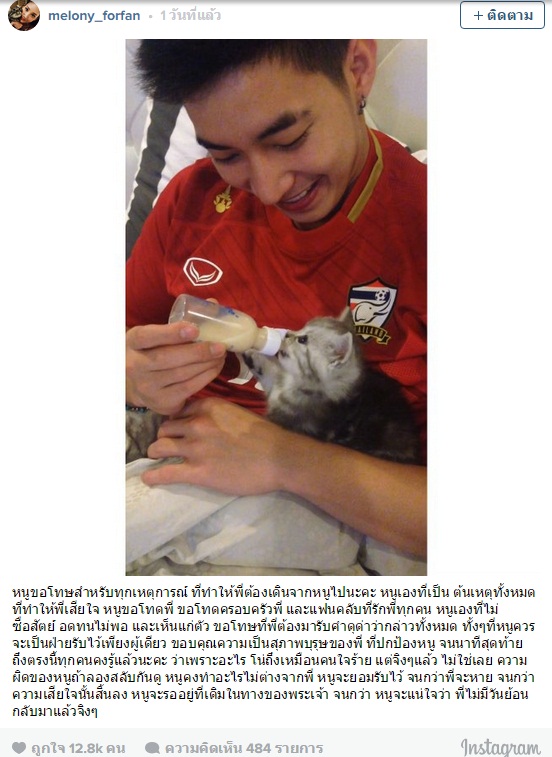 After that, we will don't have it anymore. Take care yourself, and you have to eat a lot of good food. 
I wish god protect you and your family, and bless about your working and everything you do. I will take care a cat,
and myself. I will mean to work more and more. I will live in my place that is our old place, and don't make you feel cramped anymore.
I wish you're happy so much. Today is 29 August 2015. Tono is 29 years old 
https://instagram.com/p/6-WKL6GyN7/