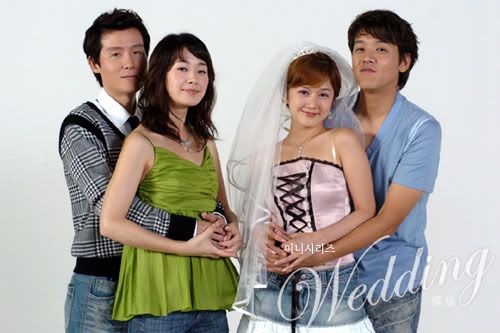 Starring:
Ryu Shi Won
Jang Nara
Myung Sae Bin
Lee Hyun Woo
Gong Hyun Joo
Choi Woo Jae
Synopsis:
Jang Nara plays the role Se Na who has a nickname "Princess� having beautiful appearance and specializing piano. She and the role Seung Woo (played by RSW), who passes foreign affairs exam to become a diplomat, have a matchmaking marriage. They and the character Yoon Soo (played by MSB) form triangle love relationship.
More
Jang Nara was wearing a tight white dress and eye-catching accessories, in stark contrast with her previous image that was reminiscent of a college student.
"I am very nervous as this is my first role playing a nice and charming girl from an affluent family in a Korean series,� said Jang.
Ryu shi-won will be playing a diplomat who is secretly in love with Myung Seh bin (whose work is something to do with flowers). He meets Jang nara later at a match-making.
Jang nara will be playing a girl from a wealthy family who is kind of wilful (just like the roles she is famous for).
"Wedding" is a story about two main characters who, unlike other young-generation people who marry after falling in love, tie the knot through a matchmaker.
Credit: HanCinema.com | Soompi Forum | Asianfanatics Forum
Download Ep. 1, Eng Sub:
Nomanymore Clubbox
ep 1:
http://files.filefront.com/Wedding___Episo...;/fileinfo.html
ep 2:
http://www.megaupload.com/?d=H80E2ICA
ep 3:
http://www.megaupload.com/?d=T0KJB3T2
ep 4:
http://www.megaupload.com/?d=0M67O6CC
ep 5:
http://www.megaupload.com/?d=4NRTK5WY
ep 6:
http://www.megaupload.com/?d=DMF5RHYJ
ep 7:
http://www.megaupload.com/?d=S0QSRUT2
ep 8:
http://www.megaupload.com/?d=AENL7VJC
ep 9:
http://www.megaupload.com/?d=WXNBMOCX
ep 10:
http://www.megaupload.com/?d=M3STXNHR
11:
http://www.megaupload.com/?d=1JT7I6SP
12:
http://www.megaupload.com/?d=59P69K7A
13:
http://www.megaupload.com/?d=LKMQZ60N
Credit:
iisparkii
sub:
http://www.d-addicts.com/forum/viewtopic.php?t=21423