A Trade of Love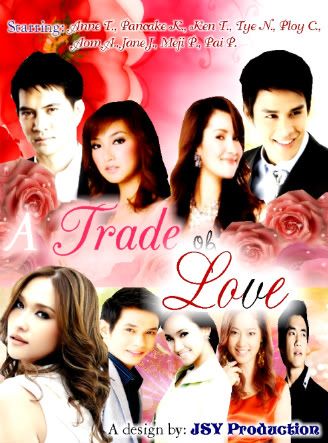 Starring:
- Anne T.
as Kalaya
- Pancake K.
as Kamala
- Ken T.
as Arthit
- Tye N.
as Alak
- Ploy C.
as Yada
- Aom A.
as Tep
- Jane J.
as Jai
- Meji P.
as Dee
- Pai P.
as Wasi

Intro:

Two poor girl that just came from the country-side to the city, they got trick and some people also stole their money too. The two girl is Kalaya and Kamala, they're two best friend that are very close to each other, but first when they're born their parent took them to the foster home, so when they grow up they just come and live together and try to find money. Then one day they met this one old, rich lady and she help them. Then they both become that old lady two grandchildren and they have two fiancee.
Kalaya fiancee is Arthit and Kamala fiancee is Alak, but the two of them switch and Kamala will become Kalaya and Kalaya will become Kamala. But what will their two fiancee do, when they both know that Kamala and Kalaya switch and lie to them....will they come back to the same and still love each other, or will they take revenge and hate each other......
------------------------------------------
Author Notes:

Sorry I'm very busy too, but I'll try to write this fanfic...and I'll write this fanfic on

Tuesday

and

Friday

.
-Thankyou
-------------------------------
@
Shelly[Sherlyi]